Italian Business Register
---
An institutional source, guaranteed by law
---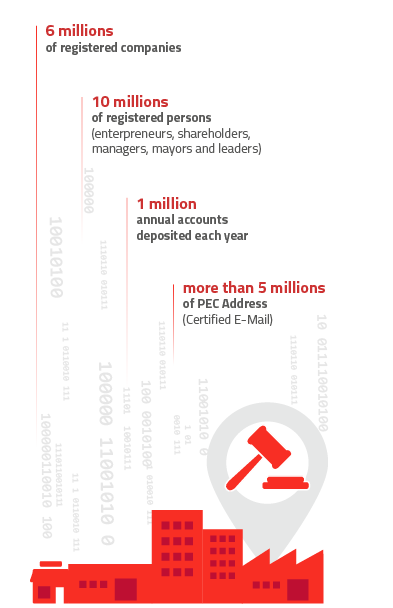 The Italian Business Register is a public register which, as already provided for within the Civil Code, has been fully implemented since 1996, by the Law in relation to the reorganisation of the Chambers of Commerce and with the subsequent Implementing Regulation. The aforementioned Law established an Italian Business Register Office at each Chamber of Commerce, which has the following features:
it has provincial jurisdiction;
it is managed using computerised techniques;
it is managed by the local Chamber of Commerce, under the supervision of a Judge, appointed by the Presiding Judge of the Court of the provincial capital, who is the Register Judge;
it is governed by a curator appointed by the board duly represented by the Secretary General or a director of the Chamber of Commerce who will ensure the correct management of the Italian Business Register in accordance with any provisions on the subject and any decisions made by the Register Judge.
The Italian Business Register can be defined as the register of company details: it in fact contains information (incorporation, amendments, cessation of trading) for all companies with any legal status and within any sector of economic activity, with headquarters or local branches within the country, as well as any other subjects as required by law. The Business Register contains all the main information relating to companies (name, statute, management, headquarters, etc.) and all the subsequent events that have occurred to them after registration (for example changes to the statute and to company officers, changes in registered address, liquidation, insolvency proceedings, etc.).
The Italian Business Register provides a complete picture of the legal position of each company and is a key archive for drawing up indicators of economic and business development in each area to which it belongs.
An official snap-shot of the business situation
---
The subjects as provided in law are registered within the Italian Business Register, including specifically:
individual business persons;
commercial companies;
consortia with external activities and the consortia companies;
European Economic Interest Groups;
public bodies with a commercial activity as their exclusive or main business;
companies that are incorporated overseas, which have their administrative headquarters in Italy or their main company objective (subject to Italian law in accordance with Law 218/1995);
cooperatives;
overseas companies with branches in Italy;
local authority special companies;
farmers;
small companies, which also include small independent farmers;
simple partnership;
professional partnership of lawyers;
organisations classified as a corporation;
companies engaged in management and coordination activities and those that are subject to the latter.
In addition to the above subjects, all legal documents are also registered within the Register. Small companies are also noted within the Italian Business Register, such as for instance those that are involved in the production of goods and services, the transport of items, people, agriculture, and so on.
A single database that is divided into sections
---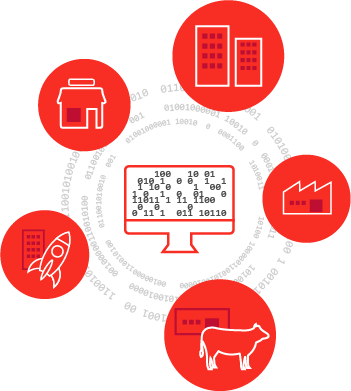 The Italian Business Register is the only one and includes an ordinary section and a special section.
The Ordinary Section includes:
partnerships and corporations;
cooperatives;
consortia with external activities and the consortia companies;
companies incorporated overseas with administrative headquarters or a branch in Italy or where the main company objective is based within Italy;
European Economic Interest Groups;
public bodies with a commercial activity as their exclusive or main business;
individual companies (non small).
A Special Section includes those qualifying as:
agricultural companies (persons and legal entities);
small company and/or farmer;
general partnerships;
artisan companies (note).
There are also specific special sections containing businesses that qualify as:
an innovative start-up;
a certified incubator;
an innovative sme;
a social enterprise;
entities that manage and co-ordinate other entities, and the entity subject to their control (group connections).
Other special sections comprise professional enterprises, companies registered for vocational and sandwich courses, documents translated from a language other than Italian. The Business Register is also connected to another public database, the Economic and Administrative Index (REA), which has the aim of completing the Business Register data with information of an economic, statistic and administrative nature. This information relates to data such as, for example, changes and transfer of activities, brands, the nomination of technical directors, the main activities, opening, closing and modification of local branches, and much more. Public bodies, associations and other entities that are not required to sign up to the Business Register are still required to provide information to REA when they carry out economic activities.